02/11/2020 • 11:00 AM – 12:00 PM
Gulf Shores Cultural Arts Center
19740 Oak Road W Gulf Shores AL 36542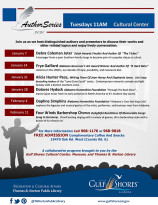 Join us as we host distinguished authors and presenters to discuss their works and other related topics and enjoy lively conversation.
On Tuesday, February 11, Four Winds Barbershop Chorus, delightful renditions of memorable songs sung in harmony. Chord busting singing with a variety of genres, all in barbershop style with a bunch of fun thrown in!
Admission is free with complimentary coffee and snacks.
Details
FEATURES: Community, Family Event, Indoor Event, Music
Handicap accessible/wheelchair accessible
Free Admission