Summer is a wonderful time in Foley when you can take walks in the park and rides on a train, and enjoy wonderful downtown events.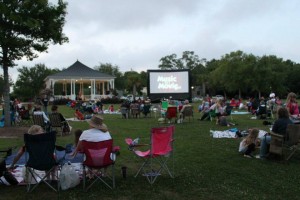 Those events include Heritage Market Place, which takes place from 4 to 7 p.m. each Friday afternoon. Vendors offer a variety of arts and crafts, baked goods, homemade items, plants and more in a beautiful setting in the downtown park. This event also provides a festive atmosphere to kick off Music and a Movie.
Music and a Movie starts at 6 p.m. each Friday evening in Heritage Park. It's a free event, though concessions are available for purchase. Bring a blanket or lawn chair, enjoy live music before the film begins at dusk.
Check out this summer's lineup:
June 3: Musical entertainment by the Baldwin Pops followed by the film "Max." In addition, the Foley Police Canine Unit will be on hand with demonstrations.
June 10: A Foley Fire Department Safety Demonstration starts the evening, then One Fair Duo provides musical entertainment followed by the film "Planes, Fire and Rescue."
June 17: Musical entertainment by Sugarcane Jane precedes the film "Cinderella."
June 24: Musical entertainment by Danny D Band energizes the crowd before "Star Wars" begins.
Looking for daytime activities for the kids? Graham Creek Nature Preserve hosts two camps for youngsters: June 13-17 is Pioneer Day Camp from 8 a.m. to 5 p.m. each day, and June 20-24 is Explorer Day Camp for ages 5 to 9.
Get your summertime fun on and enjoy all Foley has to offer!