10/19/2018 - 10/21/2018 • 6:00 PM – 11:00 PM
OWA Town Center
1501 OWA Blvd Foley AL 36535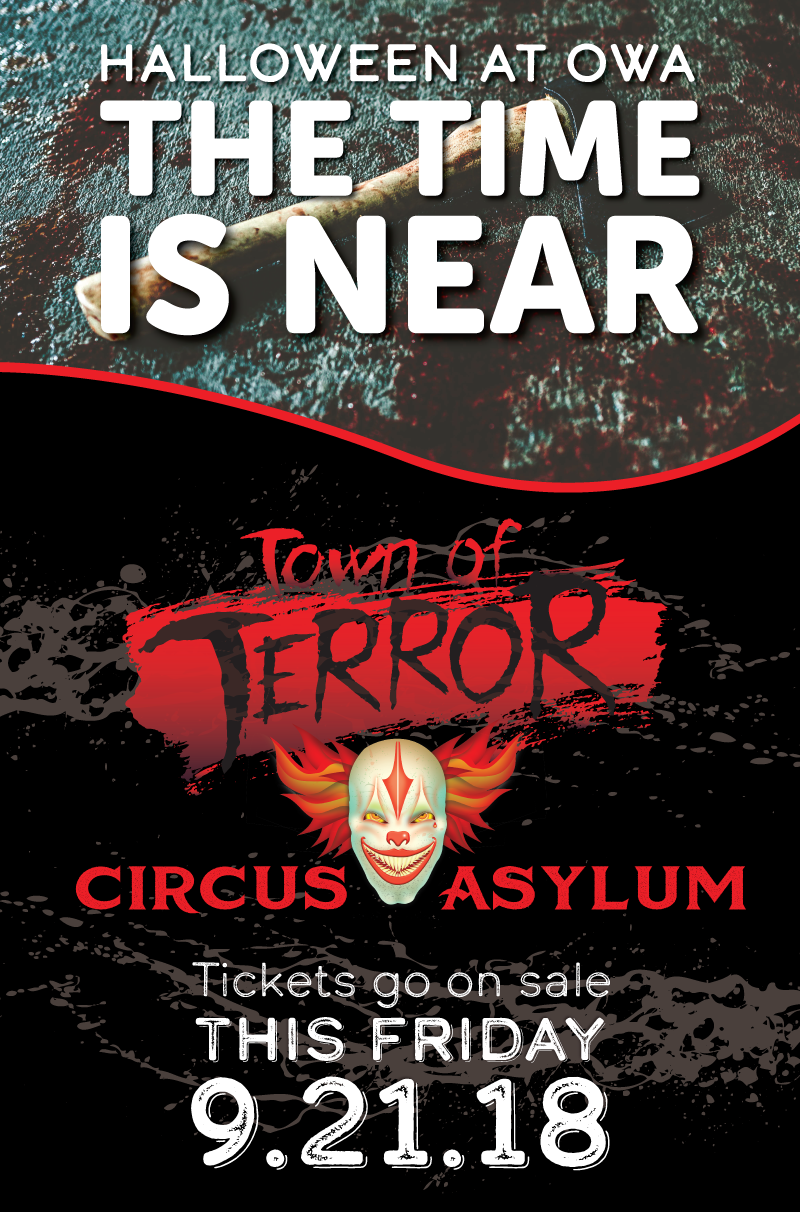 Step right up and face your fears…
…The scariest Town of Terror has just arrived on the Gulf Coast. This year's Town of Terror theme is none other than the Circus Asylum. They came, they performed… and they never left. These forgotten acts have become possessed and taken over the Town of Terror Downtown OWA (located outside the amusement park gates). The ringmaster is ready to welcome you to his Circus Asylum and claim you as his own…
Enter the "big top" Fridays and Saturdays from 6-11pm and Sundays 6-9pm starting October 5, 2018 — with an additional Halloween opening on October 31 from 6-10pm!
Looking for a calmer Town of Terror experience? The "No Boo" Tour is for those who want to see the haunted house from a non-scary perspective. Walk through this "lights on" experience and learn all about the story of Poke and Dot, then get exclusive access and photo opportunities with the actors. Each ticket also comes with a "No Boo" necklace. "No Boo" necklaces let our scare actors know to turn on the charm for photo ops and friendly waves as you pass through the streets of Downtown OWA. "No Boo" necklaces will be available for purchase throughout the property, as well.
This collection of chills and thrills are sure to scare you, as you navigate your way through possessed performers, come face to face with fear, and become hypnotized by the circus of your nightmares.
Sunday October 21 hours 6 – 9.
Tickets on sale beginning September 21st
Details
FEATURES: Family Event
Handicap accessible/wheelchair accessible
ADMISSION: Admission prices vary, please see our website.