From breathtaking balloon festivals to finger-snapping musical events, there is always something to see, do and hear in Foley!
Take in a summer theatre presentation or listen to a musical performance in one of our parks. Bring the kids and spend the day riding the train in Heritage Park or stop by Stacey's Old Tyme Soda Fountain. Seasonal events like the Alabama Festival of Flavor and Christmas in the Park are annual crowd pleasers.
Foley is always adding new events, so use the calendar widget to see what is happening right now! Just select the date or dates you plan to visit Foley and review the list! You can also sign up for our e-newsletter and get the latest information delivered right to your inbox. Come play with us!

Banned Book Week
09/23/2018 - 09/29/2018 • 12:00 AM - 11:59 PM
Foley Public Library
319 E. Laurel Ave. Foley AL 36535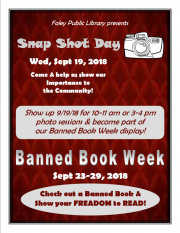 Banned Book Week, Sept. 23-Sept 29, 2018, will include displays from our "Snapshot Day" as well as a couple of Banned Book games throughout the week. On Tues., Sept 25, the library …
Makersaurus Time "Masks and 'Staches"
09/26/2018 • 4:00 PM - 5:30 PM
Foley Public Library Upstairs Meeting Room
319 E. Laurel Ave., Foley Foley AL 36535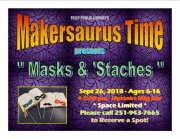 We'll be making our own "Masks and 'Staches" this time around! Ages 6 – 16. Space is limited so call now to reserve your spot 251-943-7665.
Friends of the Foley Library Bookstore Sale
10/04/2018 • 1:00 PM - 4:00 PM
Foley Public Library
319 E. Laurel Ave. Foley AL 36535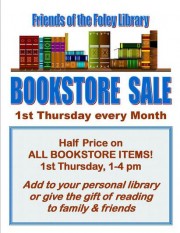 Half price on ALL BOOKSTORE ITEMS! Add to your personal libraryor give the gift of reading to family and friends. Great selection of used books for sale at fabulous prices. …
Vincent Price Movie Marathon
10/06/2018 • 1:00 PM - 3:00 PM
Foley Public Library Upstairs Meeting Room
319 E. Laurel Ave., Foley Foley AL 36535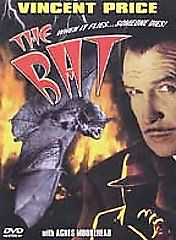 AThe Foley Public Library will be hosting a Vincent Price Movie Marathon over the course of three Saturdays in October – Oct 6, 13, and 20, 2018.  All movies begin at …
Doki Doki Club Anime Club
10/10/2018 • 4:30 PM - 6:30 PM
Foley Public Library Upstairs Meeting Room
319 E. Laurel Ave., Foley Foley AL 36535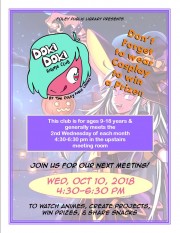 The Club is for ages 9 – 18 and the 2nd Wednesday of each month. Watch Animes, create projects, win prizes and share snacks! Don't forget to wear Cosplay to …
Vincent Price Movie Marathon
10/13/2018 • 1:00 PM - 3:00 PM
Foley Public Library Upstairs Meeting Room
319 E. Laurel Ave., Foley Foley AL 36535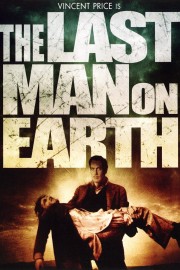 AThe Foley Public Library will be hosting a Vincent Price Movie Marathon over the course of three Saturdays in October – Oct 6, 13, and 20, 2018.  All movies begin at …
Vincent Price Movie Marathon
10/20/2018 • 1:00 PM - 3:00 PM
Foley Public Library Upstairs Meeting Room
319 E. Laurel Ave., Foley Foley AL 36535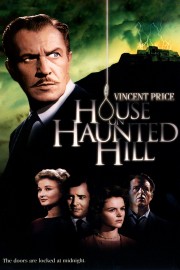 AThe Foley Public Library will be hosting a Vincent Price Movie Marathon over the course of three Saturdays in October – Oct 6, 13, and 20, 2018.  All movies begin at …
Friends of the Foley Library Bookstore Sale
11/01/2018 • 1:00 PM - 4:00 PM
Foley Public Library
319 E. Laurel Ave. Foley AL 36535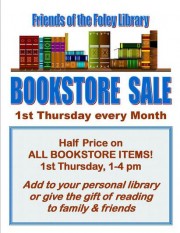 Half price on ALL BOOKSTORE ITEMS! Add to your personal libraryor give the gift of reading to family and friends. Great selection of used books for sale at fabulous prices. …
Friends of the Foley Library Bookstore Sale
12/06/2018 • 1:00 PM - 4:00 PM
Foley Public Library
319 E. Laurel Ave. Foley AL 36535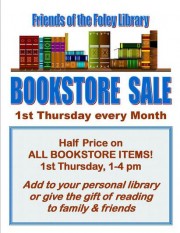 Half price on ALL BOOKSTORE ITEMS! Add to your personal libraryor give the gift of reading to family and friends. Great selection of used books for sale at fabulous prices. …
Friends of the Foley Library Bookstore Sale
01/03/2019 • 1:00 PM - 4:00 PM
Foley Public Library
319 E. Laurel Ave. Foley AL 36535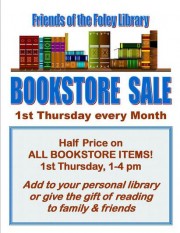 Half price on ALL BOOKSTORE ITEMS! Add to your personal libraryor give the gift of reading to family and friends. Great selection of used books for sale at fabulous prices. …