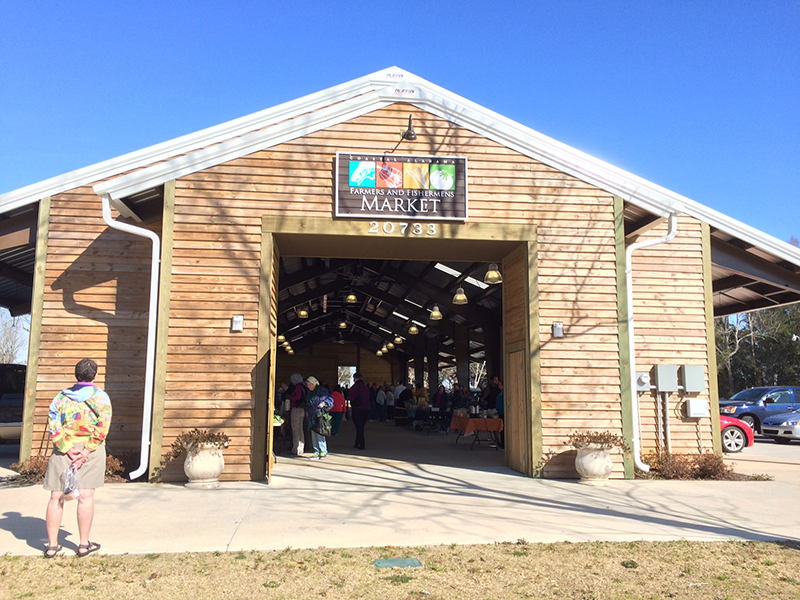 Visit the market in Foley, AL where you can buy fruits and vegetables picked fresh this morning right here in Baldwin County. At the Coastal Alabama Farmers and Fishermens Market, you will find fresh seafood, including shrimp, crabmeat, oysters and fish fillets. Other vendors offer organic steaks, ground beef and pork products. Complete your meal plans by picking up a loaf of freshly baked bread and a dessert. Other selections available include beautiful bouquets of fresh flowers, eggs, bedding plants, herbs, jewelry and other interesting items. The market hours may change as ideal times are identified by the public and by the vendors. Hours are always posted at CoastalAlabamaMarket.com. The website for the market also includes information about the vendors and recipes.
This open-air market is a great spot for rustic-themed events for up to 300. The market sits amid 32 acres of city-owned property. It offers an excellent setting to take advantage of the best of Foley's coastal climate while enjoying all the amenities needed for comfort, convenience and a personalized décor.
Details
HOURS OF OPERATION: Tuesdays 10:00 a.m. to 3:00 p.m. and Saturdays 9:00 a.m. to 2:00 p.m.