802 S Mckenzie St
Foley, Alabama 36535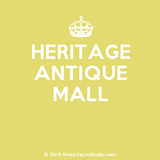 Antique Store · Collectibles Store · Book Store A 13,000 sq ft facility featuring some of the finest antiques available!
Over 18,000 square feet of space filled with antique furniture, collectibles, vintage metal signs, glassware, jewelry, books, records and more. Our merchandise selections change daily and with over 100 vendors on site, you'll want to stop by often.
We are located in Irwin Square so you can leisurely shop in air conditioned comfort. You can find us on the main road across from the new Harbor Freight. Whether you are an avid collector or yearn to own a piece from the past, Heritage Antiques Mall is sure to have just what you are looking for!
Details
HOURS OF OPERATION: 10:00am to 6:00pm, Sunday 12:00 to 6:00pm