Put your canoe or kayak in at Graham Creek Nature Preserve or Wolf Creek and you'll quickly realize there are great spots for paddling in the Foley area!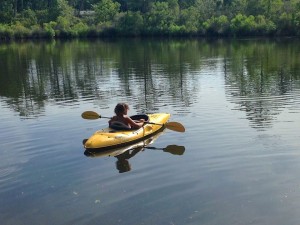 The launch at Graham Creek puts paddlers on a narrow, slow-moving stream surrounded by beautiful forests and wetland areas. About a one-mile paddle gets kayakers to Wolf Bay or on into Wolf Creek, both great areas for paddling. And you can take out at the Wolf Creek Park pier.
Graham Creek Nature Preserve also offers a couple of options for hikers: a two-mile trail with great opportunities for birdwatching, or the 5-mile trail with muddy areas and rustic routes.
But those are not the only places to catch sight of Foley's beautiful foliage. Melvin Roberts Park on Cedar Street in town has a nature trail as well as a walking path that runs parallel to Highway 59, bordering Heritage Park.
Walkers can also meander along the beautiful Wilbourne Antique Rose Trail through downtown Foley.
So whether you want to hike or paddle, get outdoors and explore Foley!