Foley loves to throw a party to celebrate each season, so you'll find plenty of events in the Forward City to keep you busy all through the year!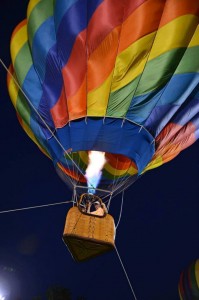 Folks in South Alabama know how to let the good times roll during Carnival season, and Foley is no exception. Our Mardi Gras Parade rolls at 11 a.m. on Saturday, Feb. 6. Come out for great throws and a good time!
Next up is the Foley BBQ & Blues Cook-off, a day-long party set for March 19 at Heritage Park. The event features spicy barbecue, sizzling blues, arts and crafts vendors and children's activities!
Want to see hot air balloons fill the sky? You have that opportunity when the colorful 12th Annual Gulf Coast Hot Air Balloon Festival floats into the Foley Sports Complex, 18507 U.S. Highway 98, on May 6 and 7. This free festival includes balloon glows on Friday and Saturday nights, the Disc Connected K-9s Frisbee Dog Show, carnival rides, arts and crafts vendors, mouthwatering food and musical entertainment. This is quickly becoming a must-do event in the Southeast!
The same weekend, you can peruse the booths of more than 110 vendors at the annual Foley Art in the Park, set for May 7-8 at John B. Foley Park on the corner of U.S. Highway 98 and Ala. Highway 59. This competitive, juried fine arts show features the best artists and craftsmen from the Southeast, along with children's activities, plenty of food and musical entertainment.
It's all about the food at the 5th Annual Alabama Festival of Flavor, Oct. 1 in downtown Foley. The event showcases the many flavors of local and regional foods as well as wine and craft beer, and is focused on locally grown produce and locally made products.
The holidays are our busiest season, with the Trim-A-Tree holiday bazaar, Christmas in the Park, Let it Snow, the Foley Christmas Parade and more! Watch for information on those events later in the year!