12/04/2020 • 7:00 PM – 8:00 PM
Foley Civic Center
407 E Laurel Ave Foley AL 36535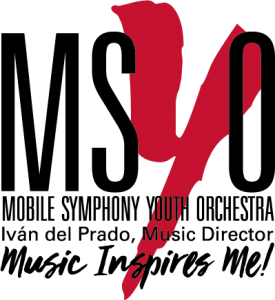 The Mobile Symphony Youth Orchestra will be giving a special presentation this year! In order to maintain social distancing due to COVID-19, this years presentation will be broadcast by WHEP Radio 1310 AM/92.5 FM, Riviera Cable Channel 7, www.whep.com and the WHEP app. The broadcast will be three performances: woodwinds, brass and strings.
The Mobile Symphony Youth Orchestra is the premier training orchestra for young, accomplished musicians along the Gulf Coast of Alabama, Florida, and Mississippi. The orchestra performs up to seven concerts each year and regularly features world-renowned guest artists such as Midori (violin), Pablo Sáinz Villegas (guitar), Yuri Rozum (piano), and Chee-Yun (violin). The MSYO is the flagship ensemble of the Mobile Symphony's education programs, which have been the recipient of the Midori Orchestra Residencies program and the Bank of America Award for Excellence in Orchestra Education.
The MSYO is comprised of middle school, high school, and early collegiate students through the age of 21. Its members reside across the Gulf Coast region. The MSYO generally performs 5 or 6 concerts each season at various venues including the historic Saenger Theatre in downtown Mobile.
Sponsored by the Rotary Club
Details
FEATURES: Music
Handicap accessible/wheelchair accessible
Free Admission
ADMISSION: This performance will be by broadcast only. WHEP 1310 AM or 92.5 FM