09/05/2020 • 8:45 PM – 9:00 PM
OWA
1501 South OWA Blvd. Foley Alabama 36535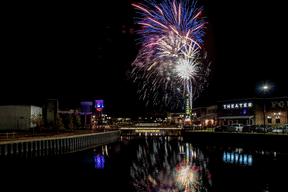 Wrap up your summer and celebrate Labor Day Weekend with an epic fireworks show at OWA on Saturday, September 5th. The fireworks go off at 8:45pm sharp on Saturday, September 5th. This marvelous show timed perfectly with music can be seen throughout the entire property.
Labor Day Weekend is sure to be a blast at OWA, so come early and save your seat! You might as well spend the whole day with us Saturday, because OWA's Labor Day Car Show starts early that morning. Stroll OWA's pedestrian-only streets and enjoy the unique viewing pleasure of decades of unique and classic cars. Grab a bite to eat after the show and then relax outdoors and then get ready for the ultimate fireworks spectacular!
We also have tons of great activities happening all weekend long!
Details
FEATURES: Family Event, Outdoor Event
Free Admission