04/22/2017 • 10:00 AM – 2:00 PM
Graham Creek Nature Preserve
23460 Wolf Bay Dr Foley AL 36535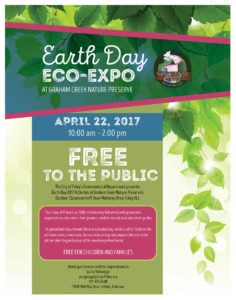 Eco-Expo 2017 starts at 10:00 am featuring Baldwin Country grassroots organizations, educators, food growers, outdoor recreation & adventure guides at the GCNP Outdoor Classroom (off Stan Mahoney Drive, Foley).
A special Earth Day themed Observe & Explore Day will kick off at 10:30am. We willWe will have some children's activities including a story time, live music, an outdoor Eco-Expo highlighting outdoor recreation and environmental organizations within our area, and wagon rides out to the pitcher plant bog all for free and will be 10am-2pm. If anyone would like to participate in a rain barrel workshop at the nature center, the cost is $40 and they take home their barrel. This is from 10am until noon.
Direct questions and exhibitor registration to Jackie McGonigal at 251-923-GCNP (4267).
Details
FEATURES: Educational, Family Event, Nature, Outdoor Event
Handicap accessible/wheelchair accessible
Free Admission
ADMISSION: $40 for Rain Barrel if participating in workshop