04/20/2019 • 10:00 AM – 12:00 PM
Foley Public Library Upstairs Meeting Room
319 E. Laurel Ave., Foley Foley AL 36535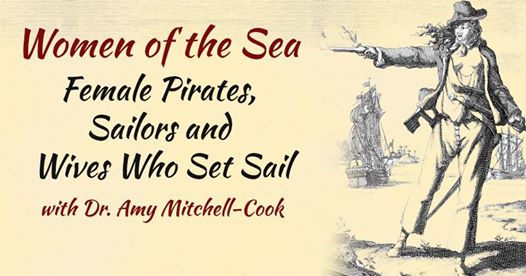 According to traditional scholarship, women rarely went to sea. Romantic views of wives, waiting anxiously for returning husbands, and issues of proper middle-class behavior distorted historians' depictions of women's place in the maritime world. From such representations, women's greatest contributions in relation to maritime activities were support on land and the ability to maintain hearth and home. Recent scholarship, however, has shown that women did go to sea. Some went as wives or daughters, and maintained the traditional family setting, while others disguised themselves as men and sailed in both merchant and naval vessels. A few women even became pirates. This presentation explores why these women chose a life at sea and how they functioned in a mostly male environment.
Maritime historian Dr. Amy Mitchell-Cook is an associate professor and chair of history at the University of West Florida. She's been hooked on shipwrecks from the moment she volunteered on a maritime project in Yorktown, Virginia. She spent 10 years as a maritime archaeologist before shifting her focus to maritime history. Her book, "Sea of Misadventures: Shipwreck and Survival in Early America," is based on more than 100 accounts of shipwreck narratives from 1640 to 1840, and explores the issues of gender, race, religion and power, and how it reflected on Americans in Anglo-American society.
Stick around after the talk for light refreshments and genealogy talk.
Details
FEATURES: Educational, Family Event, Historic, Indoor Event, Library
Handicap accessible/wheelchair accessible
Free Admission