02/20/2020 • 3:00 PM – 4:00 PM
Foley Public Library Upstairs Meeting Room
319 E. Laurel Ave., Foley Foley AL 36535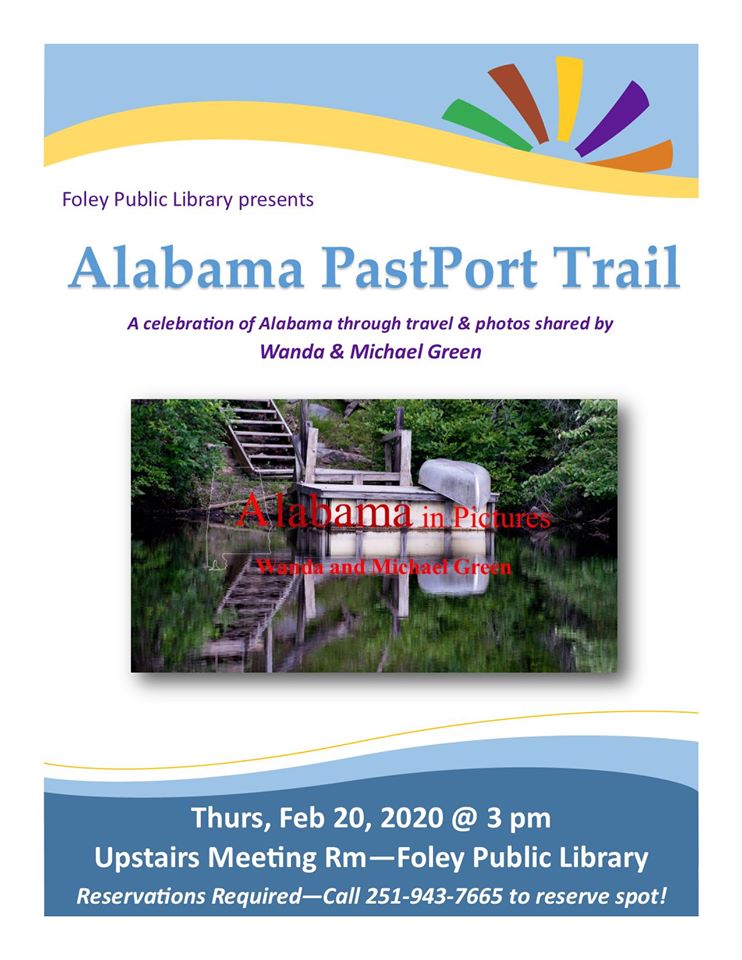 The Foley Public Library will be hosting a presentation, "Alabama PastPort Trail," on Thurs, Feb 20, 2020 @ 3 pm. This presentation is a celebration of Alabama through travel and photography shared by Wanda and Michael Green.
Wanda and Michael are photographers who are basing their presentation on their exploration of the state of Alabama during its 200th birthday. As of May 2019, they had visited 48 of the 67 Alabama counties and hoped to visit all of them by Dec 31, 2019. While on the Alabama PastPort trail, they had the opportunity to do everything from taking a train ride into the past at the Heart of Dixie Railroad to journeying into the future with a ride on the new electrically operated, state-of-the-art ferry in Camden – plus many things in between.
Please join us in the library's upstairs meeting room for this interesting presentation via photos and discussion. Come prepared to share your own Alabama experiences, too.
Please call 251-943-7665 to reserve a spot.
Details
FEATURES: Community, Educational, Family Event, Historic, Indoor Event, Library
Handicap accessible/wheelchair accessible
Free Admission
Advanced Registration Required