The City of Foley upholds the tradition of Christmas with light displays, caroling, art, theater, and even a little magic. Tinsel and holiday lights line the town streets, helping spirits shine through the hustle of the holiday season. No doubt, the shopping in Foley will be top notch, but beyond that, a shared sense of wonder and communion is the true reason for the season. Gather your friends and family together for some of these fun, holiday events.
If you love the ballet, don't miss opening weekend of Coastal Ballet's 2018 "The Nutcracker," Dec. 1-2, from 7-8:30 p.m. There is a final showing of "The Nutcracker" on Saturday, Dec. 8. Watch as Clara delightfully dances her way to the Sugar Plum Fairy.
The talented cast of South Baldwin Community Theater's "A Charlie Brown Christmas" bring this classic story to life, as they discover the true meaning of Christmas. There are six showings total. You can catch them Friday through Sunday, from 7:30-9:30 p.m. on the second and third weekends of December.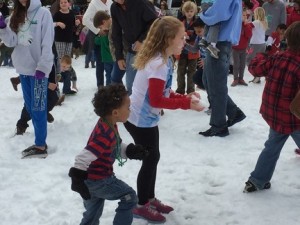 Friday, Dec. 7, kicks off a jovial weekend of outdoor celebrations in downtown Foley with Christmas in the Park from 6-8 p.m. Brighten your spirits with a stroll through Foley's mini Christmas village, visit with Santa, sip hot cocoa, and enjoy holiday caroling. The following morning, Dec. 8, is the can't-miss Let It Snow in the park, from 11 a.m. to 3 p.m. Bring your mittens and coat, and play in the snow all day.
Santa will also visit for Christmas in Nature at Graham Creek Interpretive Center from 10:30-11:30 a.m. on Dec. 15. Enjoy snacks and hot chocolate, plus discussions around winter wildlife and nature-based crafts.
More than just a commercial holiday, Christmas is about getting together with your loved ones and enjoying each other's "presence." Gifts are great, but gratitude and time together is the true reason for the season. Share some Christmas nostalgia and make this a holiday to remember at one of these fun, Christmas events in Foley.