Each year, the Foley Art Center sponsors Trim-A-Tree, a holiday market that runs for six weeks. Shoppers find one-of-a-kind, handcrafted items that include ornaments, decor, gifts, artwork, jewelry and more!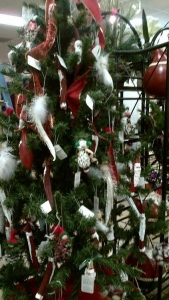 Trim-A-Tree showcases works by craftsmen and artists from throughout the Southeast. Items include stained glass, hand-painted gift bags, SEC koozies, sea shell trees, scarves, beaded fan pulls, holiday wall hangings, Santas in every shape and design, and more!
In addition to being a great place to browse and find unique holiday decor, Trim-A-Tree provides a wonderful way to support these local artists.
Discover this truly unique shopping opportunity at the Tanger Outlet Center, 2601. S. McKenzie St./Hwy. 59 in Foley. Begins Nov. 13 and runs through Dec. 21. Hours will be Monday through Saturday 10 a.m. to 7 p.m. and Sunday 11 a.m. to 5 p.m.
Experience Trim-A-Tree and you will see why it has been a holiday tradition in Foley for more than 45 years!
http://visitfoley.com/events/trim-a-tree/